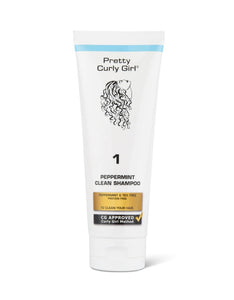 Pretty Curly Girl
Peppermint Clean Shampoo
Regular price
€22,95
€0,00
Unit price
per
Tax included.
Protein free. Does not include coconut or Aloe Vrea.
98 % natural.
Purpose
This protein free foaming shampoo is formulated with a gentle cleanser to clean your scalp & hair without stripping of the oils. Enriched with Peppermint oil, Tea Tree oil and the unique formula PreBIULIN® FOS to help with scalp irritations like dryness, itchiness and dandruff. The tingling effect increases blood circulation to the scalp to create a healthier environment for hair growth.
How to use
Step 1: use once a week. Apply a generous amount on your scalp, massage and let the foam work further to the lengths of your hair. Leave it on for at least 1-2 minutes for a tingling sensation. Then rinse out. Follow with step 2, condition your hair.

Tip
The tingling sensation can diminish due to the foam. Add a little bit of the peppermint fresh co-wash on your scalp, if you like to have an extra tingling sensation while using the shampoo.
INGREDIENTS : Aqua, Sodium Cocoyl Isethionate, Cichorium Intybus Root Extract, Inulin, Mentha Piperita Oil (Peppermint oil), Cellulose Gum, Fructose, Potassium Sorbate, Sodium Benzoate, Citric Acid, Xanthan Gum, Melaleuca Alternifolia Leaf Oil (Tea Tree), Cellulose, Glucose, Limonene
Puhdistaa, kihelmöinti ärsyttää
Ihan ok, ajaa asiansa. Hyvä vaahtoavuus. Tuote tuntuu vahvalta ja kihelmöi päänahassa (mitä valmistaja mainostaa hyvänä asiana mutta enpä tiedä, minulla on herkkä iho joten epäilyttää). Haluaisin vain hellävaraisen sulfaatittoman shampoon ilman kommervenkkejä.
Peppermint clean shampoo
Aivan ihana! Puhdasta tulee ja tuoksu on raikas. Vaahtoaa hyvin.
Aivan ihana!
Rakastan tätä tuotetta! Tuntuu hyvältä päänahassa, hiukset ovat puhtaat, pehmeät ja kevyet. Tuoksuu ihanasti piparmintulle. Tuoksu on aika voimakas, mutta sopii tämän aistiyliherkän nenään ja haihtuu nopeasti.
Hyvä shampoo, ärsyttävä loota
Shampoo on loistava! Teepuuöljystä jää ihana viileä tunne, puhdistaa ja rauhoittaa kutisevaa ja hilseilevää päönahkaa tosi tehokkaasti, ja vaikuttaa riittoisalta muutaman käytön jälkeen. Tuoksu on voimakas, mutta piparminttu ei onneksi ole paha haju, niin ei haittaa.
Mutta purkki on todella ärsyttävä. On tosi luksuksen tuntuinen ajatus, että shampoo tulee tuollaisessa vaakapurkissa, mutta meidän opiskelijakämpän suihkussa, jossa ei saa porata seiniin reikiä hyllyille, on tosi huonosti laskutilaa ja tän käyttäminen aina haaste. Ekalla avaamisella shampoota myös valahti lattialle ainakin parin käytön verran, koska en tajunnut pitää purkkia suorassa -- oletin muodon takia, että se olisi koostumukseltaan kiinteämpää. Mutta ainakin meidän kylppärissä, jossa on kyllä aina tosi kuuma, shampoo pysyy hyvin nestemäisessä koostumuksessa jota olisi helpompi ottaa pullosta. En tiedä onko viileämmässä kiinteämpää, silloin muotoilu kävisi enemmän järkeen.
Paras tuote
Rakastan tätä tuotetta! Tästä jää päänahkaan niin hyvä olo.
---