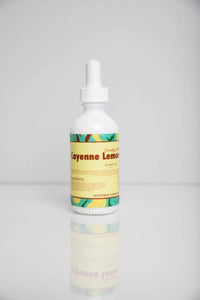 Ecoslay
Cayanne Lemon Squeeze
Regular price
€7,90
€0,00
Unit price
per
Tax included.
Nature meets Science in Ecoslay's carefully crafted Cayenne Lemon Squeeze growth oil.
A multi-year study was performed on the distinct oil combinations inside of this little bottle and determined that over 44% of the participants saw dramatically increased hair growth within 7 months. At our little shop in Georgia, Cayenne Lemon Squeeze has quickly become a favorite - each of us have experienced significant growth since we began formulation. Not only is this no-fillers oil absolutely phenomenal when it comes to increasing and retaining length, it also imparts excellent shine and seals in moisture superbly.
Directions:
As a Hot Oil Treatment: Warm the bottle of Cayenne Lemon Squeeze in hot water. Apply to the scalp and massage before rinsing.
As a Daily Scalp Treatment: Apply sparingly to scalp and massage.
To Scrunch out the Crunch: Apply a few drops to palms. Rub together and smooth over dry hair to break up the gel cast.
Ingredients: Pumpkin Seed oil, Jamaican Black Castor oil, Lemon essential oil, Sage essential oil, Thyme essential oil, Peppermint essential oil, Lavender essential oil, Rosemary essential oil, Cedarwood essential oil, Tea Tree essential oil, Cypress essential oil, Fenugreek essential oil, Cayenne Pepper oil.
Voimakas
Tuote itsessään on ihan ok, mutta tuoksahdus on voimakkaasti cayannepippurinen ja vähän tunkkainen. Hiuksiin tulee kiva kiilto ja pehmittää kuivia ja karheita latvoja. Sopii mielestäni hyvin hiuspohjan hierontaan, joka pestään lopulta pois.
---